"Who would you be, and what would you do, if you weren't afraid - afraid to be you?"
I don't fit in... And I love it.
I've noticed the people who seem to appreciate my expression and my message most tend to feel similarly; that is, they don't really feel like they fit in either, even though they may look like they do - they have multiple passions, they care deeply about people and the planet, they feel a little "lost", and they're really more about creating their life and identity on their own terms than following the herd.
These people get me, but I'm a bit of an enigma to those who follow the path most traveled, and it's not always easy. In fact, one would argue it's controversial; especially in a time where you're on one side or the other. My whole life people have tried to tell me how I "should" think and how I "should" do things, yet I remain very Reno.
I attend church once in a while and I believe in God and Jesus, but I'm not religious. I identify as spiritual and if I had a religion I'd call it "Love" or "Oneness". I really dig pop-culture, lifestyle, and entertainment AND I can spend hours talking and learning about spirituality, mysticism, and well-being. My listening habits range from podcasts and YouTube videos on entrepreneurship and personal development, to Nicki Minaj and Drake, to tribal and binaural beats, to meditation music and nature sounds. I'll watch both "Scandal" and "Super Soul Sunday" in one sitting. I embrace both "masculine" and "feminine" energy and expression at any given time (including in the boardroom and the bedroom). I'm known to take the high road in a disagreement AND you may catch me passionately calling someone out from time to time. I love me some greens and green juice, and I've been known to finish a large bowl of buttery popcorn and a couple glasses of red wine. Life's about balance right. I've never really felt like I specifically belonged to any group, and always floated between many different social circles.
I occasionally refer to myself as a "Star", an "Inspirer", "Community Leader", and a "Spiritual Life & Business Facilitator" - if Oprah, Lewis Howes, and Ru Paul had a baby, I'd be it. It's my way of owning the fact trying to box and label myself just doesn't work for me. It's also my way of painting a picture of what I do... In a way, I get paid to play, and to be me.
You're probably wondering what that even means. Well... I've done everything from personal styling, copywriting, producing and hosting events, and managing social media management, to appearing on television, facilitating personal and professional development workshops, creatively working with startups, and engaging in spiritual life and business coaching with lovers, leaders, professionals, entrepreneurs, and soul-preneurs. Ultimately, everything I do comes back to the understanding that when we are healthy and whole as individuals and we're living inspired and wholehearted lives, everybody wins. We feel better, we look better, our relationships are juicier, we earn more, we're more aware of the importance and impact our being here, and we move from surviving to thriving.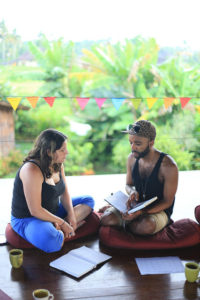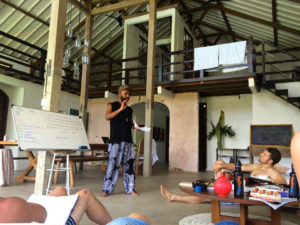 I'm in the business of people, potential, possibility, and play - I playfully and creatively help people (seems to be a lot of men these days) connect to their hearts, become more secure and unapologetically authentic, and experience more freedom, joy in their lives, careers, and relationships. Sometimes that's done via 1-on-1 and group coaching and consulting, sometimes via workshops and live or digital events, sometimes via retreat experiences, and sometimes it's as simple as reading one of my posts on social media, tuning into one of my Facebook Livestreams or watching my show "It Just Got Reno".
I'm also really into sharing my life and the lessons I learn on digital and social media, and occasionally on television. I imagine I'll inevitably turn up on Netflix, Hay House, and SiriusXM Radio.
Life didn't always feel this fabulous - and some days it still doesn't.
I have vague yet visceral recollection of the many times I felt misunderstood and misrepresented, and the many times I was reminded that it wasn't okay to be me - being reprimanded for crying, being sent into the hallway for being an inconvenience and unapologetically expressing myself, receiving spankings and verbal lashings for behaviour adults didn't agree with, being called "faggot" and "nigger" for my effeminate and expressive demeanour and the colour of my skin, and running home in shame after being caught "experimenting" with a male friend. If reading this makes your uncomfortable, you can imagine how it felt being on the receiving end of it... Heavy. Shameful.
I'm okay now, but at the time I carried my shame on my back like a sack of bricks; each one they hurled at me, I picked up and dropped into the sack. You can imagine what carrying that weight will do to a person after several years.

Nobody told me I didn't have to pick them up. Nobody told me I didn't have to put them in my bag. Nobody told me that I could remove the bricks, or just put the bag down.
I'm telling you that you can.
At 19 years of age, I finally decided to begin removing the bricks. I started by bravely daring to announce to the world that I was gay. 4 years later I removed several more bricks by admitting I was a total mess and that I had no idea where I was going or what the f*ck I was doing with my life. I continued removing them as the years went on - each lie of inadequacy becoming a truth of potential and possibility. Which is just a cool way of saying I realized I'm so much more than the bullsh*t stories I believed.
I became hungry for truth and love and freedom. I wanted to feel good. So, I changed habits, changed environments, changed relationships, changed career paths, and changed my life.
It was painful at first. Scary even. And then... I felt lighter. I looked brighter. I felt totally secure in my skin. What I needed just showed up as I needed it. Synchronicity became my new reality. My focus and energy began to flow into things I was passionate about, which became gifts I could share and give, which rewarded me a sense of meaning and significance. I became a man of passion and purpose... and prosperity followed.
If you would've told that kid that he'd graduate with a diploma in Public Relations, a diploma in Marketing Management, and a certificate in Management....

If you would've told that kid that two weeks after his graduation he'd purchase a one-way ticket to Toronto to intern in Fashion Public Relations and rub shoulders with the who's who of the fashion and entertainment industry....
If you would've told that kid that he'd campaign and hustle his way to paying for a trip to attend a spiritual retreat in Bali...
If you would've told that kid that he'd find himself curating large events, and leading communities...
If you would've told that kid that he'd return to Bali for another 6 months to help develop a collaborative living and working project with an Aussie he met his first time there...
If you would've told that kid that he'd appear television over a dozen times...
If you would've told that kid that he'd become a "Spiritual Life & Business Facilitator" and help others own their own unique genius...
If you would've told that kid that he'd find himself speaking on stages in front of rooms filled with people...
He probably would've said something like "I know... but they don't... yet."